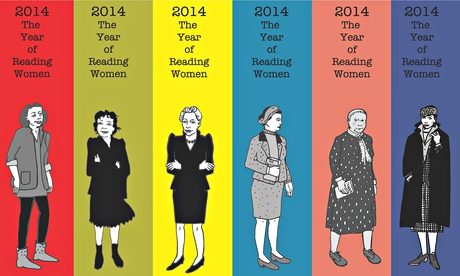 At the beginning of the year I decided to try out the Read Women 2014 initiative, started by Joanna Walsh, aiming to raise the profile of female writers. I won't go into any detailed rationale as to why I thought this was worthwhile here, though this article gives an interesting insight into why raising the profile of female writers is so necessary along with some useful source links. When I started I made a general commitment, thinking that I might insert the odd male writer here or there as the spirit moved me. I knew there was a David Mitchell novel coming out, for example. I enjoy J.M. Coetzee, Don DeLillo and Cees Nooteboom and there are many of their books I haven't yet read that I'd like to read. So I didn't plan to follow it rigidly, but rather tried to choose female writers and see what happened.
So what did happen? For a start, I haven't read any male writers. This hasn't been intentional. I've seen the Mitchell book come out with interest and bought at copy, and I'll read it when I get to it. What I found when I started exploring the works of female writers was what a plethora of amazing writers there are out there, vibrant, exciting, brilliant writers. If anyone had the idea that female writers just weren't as good or as innovative as their male counterparts, read works by women for a year and you'll soon discover differently. There are the known great writers: Virginia Woolf, George Eliot, the Brontes, Jane Austen, Doris Lessing. Then there are the lesser known great writers: Evie Wyld, Chimamanda Ngozi Adichie, Helen DeWitt, Elena Ferrante (read her), Deborah Levy, Jeanette Winterson, Hannah Kent, Helen Oyeyemi, Nadine Gordimer, Yoko Ogawa, Fumiko Enchi. I've discovered great writers from different cultures, from different time frames. I feel that I've barely got started, barely scratched the surface of the great writing that is out there.
What I've seen is that there's a disparity in the way writers are marketed. Maybe this is accidental, maybe not. It's a pattern. The latest book by Karl Ove Knausgaard has come out with a fanfare. There are t-shirts, posters, Karl Ove bingo cards. The latest Elena Ferrante came out with a whisper, you had to listen extremely hard to hear it (fortunately for me, I was listening). There are comparably brilliant writers, in fact I'd go as far as to say that Ferrante was better (blasphemy, I know). Why, then, no fanfare for Ferrante? When I go into my local Waterstones and look at the table display of great writers in translation, she isn't on it. She's on the shelf. I may, possibly, have then Ferrante-bombed the table display (she's on there now). I encourage others to do likewise. The latest Ali Smith came out with a whistle, David Mitchell with an orchestral symphony. Don't get me wrong, I love Mitchell. I celebrate his writing. He seems like a wonderful, personable man. I hold him no grudge, he deserves his success. But there's a disparity here, it isn't equal. Just look at the media frenzy over Murakami, yet Yoko Ogawa who is by far the better writer disappears quietly and barely a sliver of her works are translated.
This saddens me. As a reader I want to be alerted to all the best writing, the most exciting books, regardless of the gender of the writer. I want to forget about gender and focus on the writing alone, but it seems that if I do that I will see and hear only those writers that the publishing houses want me to hear about, which in a large proportion seem to be men. When I receive the promotional e-mail from Guardian Books, the proportion of male to female writers they promote tends to be around 70/30. I ignore it now. I would miss entirely Elena Ferrante, whose work is vivid and passionate and painful and pure. I would miss Yoko Ogawa who brings a unique insight into the darker sides of human nature. I would miss Evie Wyld, whose work is deep and clever and near perfect. I would be a poorer reader for it. It is time for the publishing houses to look at themselves honestly, and make a change. They could start with their cover art philosophy for a start. I wonder how many men are put off reading a book written by a woman because the cover art makes it look like 'chick lit', when the descriptions suggest there's nothing in there for a man to be interested in. Surely sales will benefit if the book isn't gendered from the beginning?
I haven't in any way regretted my (nearly) year of reading women. I haven't become less intelligent, I haven't become less interested in men. Why would I? A female perspective is as universal as a man's. Female experience is human experience. My regret, if anything, is that it seems necessary.
Reading women has been a joyful experience. I have, now, in my sights a catalogue of amazing male writers and equally amazing female writers. I would like to extend that to encompass amazing Mexican writers, Saudi Arabian, Vietnamese, Korean, Kenyan, Peruvian, etc, etc. I want to experience the best writing out there. Only by reading diversely do I have a chance to achieve that.